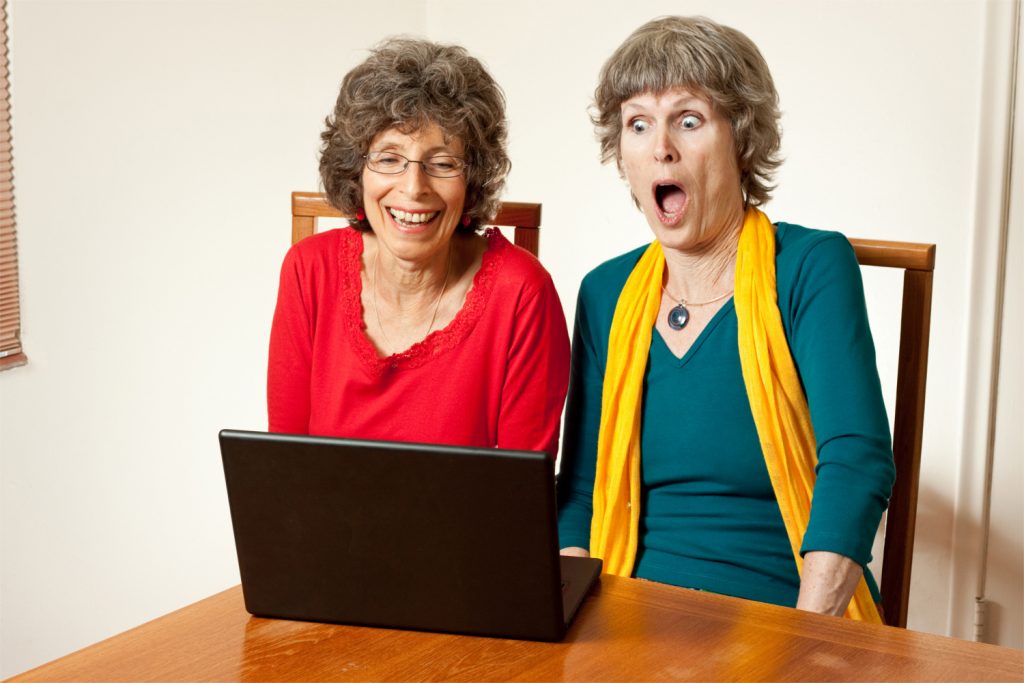 Getting to grips with technology is never easy, especially for older people. It's almost as alien as a foreign language if you haven't grown up with it.
But almost everything today involves technology whether we like it or not. Our cars, TVs, central heating systems, smart meters… And where would we be without ATM cash machines and ePOS card terminals in shops?
A Growing Population
We now have more seniors than ever as life expectancy has risen dramatically in the past century or so.
According to AgeUK There are nearly 12 million people aged 65 and above in the UK .
In 1901, on average, men lived to 48 and women to 52. However by 1971 this had increased to 68 for a man in Britain and 72 for a woman. Now the Office for National Statistics puts average UK life expectancy at 79.2 years for men and 82.9 years for women. 
So in the 1970's a man might expect to live only 3 years after retirement from work, while nowadays it is probably nearer 13 years. And with better health, our pensioners are now looking to fill their leisure time with travel – some taking a 'gap year' that they didn't have as a teenager – hobbies, bucket lists and all sorts of activities that would have been thought 'unbecoming' for older people in the 70s!
Just for fun – try using the ONS personal life expectancy calculator. Enter your gender and age and see what it says (I got 88!)
Reluctant Learners
According to the Independent newspaper in March 2019, more than five million British people have never used the internet. And more than three-quarters of those are over 65.
In many cases, our seniors resist the digital age for as long as possible. For most, it is because of the subconscious fear of making a fool of themselves, not wanting to appear stupid, and thinking there will be far too much to learn. And there can be too much to learn if we don't rethink computer training specifically for older people.
All too often the seniors may be reluctant – even cantankerous – learners, not seeing the point of it all. And let's face it, they've managed without a pc up until now! But we believe you're never too old or too inexperienced to benefit from having a computer or tablet – but to get the best out of it we just need to cherry-pick what to use, and give it all a purpose.
We often find that once the reluctant learner has mastered even a few simple tasks, they'll wonder why they didn't take the plunge earlier. Take the case of my grandfather who stubbornly refused to get a stairlift, probably because it would mean admitting to himself that he was now less than mobile. When we eventually managed to persuade him to have one installed, it gave him a new lease of life and he told us he really wished he'd had one 'years ago'!
Self-serving gifts for older people?
Frequently, the new PC or tablet was a birthday or Christmas gift from the family, eager to bring our older people up to date with technology. And often this is less altruistic than it may seem. Younger family and friends, particularly those with full time work, usually have busy lives and want to offload some of their responsibilities. One of the easiest ways to do this is by teaching the oldies to do their own online shopping and research, therefore freeing up some time that would otherwise have been spent online on their behalf.
If this seems familiar, read our blog 'Are you the family go-to for all things online?'
And with families now rarely living within a few miles of each other because sons and daughters are working miles away, teaching the grandparents to Skype will not only cut down the number of visits needed and cut telephone costs, but will still keep children, parents and grandparents in touch. Of course, if they have emigrated to another country this will be almost essential. So too will social media – grandparents frequently only find out what the youngsters are up to from a status on Facebook.
The silent set-up
So often, the gleaming new birthday or Christmas present will be hurriedly setup by a teenage relative with little more explanation than the occasional grunt. Then handed over with a quick 'there you are – it's easy, you just do this' as they get back to online gaming with their mates.
And even if you opt for the 30-minute tutorial at the retailer where it was bought, chances are a booted-and-suited youth little older than your teenage relative will whizz through what to him is real kindergarten stuff – but to you is complete gobbledygook – and still you're none the wiser.
Does learning get more difficult as we get older?
It is often said that the older we get the harder it becomes to learn– but really it just takes a bit longer. And most of us find we lose interest – and patience – with things that don't capture our imagination, consequently we switch off completely from the lessons. And for older people, there is no incentive to learn more to further their career or climb the corporate ladder. They have earned the right to do only what they want to do in retirement, not what is expected of them or what others want them to do.
Our over-65s probably don't need to give presentations, manage staff budgets or write formal work processes since retiring from their jobs. So why would they need to become Power-users in Excel or Powerpoint? At PC Fairy, we throw conventional training techniques out of the window, and concentrate on bite-size chunks of really useful or interesting stuff, above all being careful not to cause information overload. In addition, we try to make it fun – it shouldn't be a chore for either the tutor or the learner.
Going right back to basics for seniors
However it can become a chore for both when a younger relative who has forgotten what it's like to be a complete novice tries to take on the teaching role. When you've grown up with technology, some things are just so obvious to you that you don't think you need to spend time explaining the real basics. But for the senior who has never used a computer at work, even using the mouse or keyboard can be a mystery.
Many years ago my Dad went on an Adult Education course in computer basics and the lady sitting next to him put the mouse on the floor to use with her foot – because in a previous worklife she'd been an audio typist, controlling the pace of the audio with a treadle, so this seemed like the logical thing to do. And why wouldn't it, if she'd never even seen a computer and mouse before?
Choosing the right tuition
There are plenty of classes available locally – some even free – but not everyone thrives in a classroom situation with very broad tuition to suit a group of people all wanting to get something different from their lessons. We do our training as one-to-one tutorials at home, in familiar surroundings and on your own computer or tablet, without having to wait for the slowest in class to catch up, and without feeling that everyone else knows more than you do.
With us, there is no 'standard tutorial', other than perhaps the initial 'Get To Know Your Computer' session for the absolute novice. We'd rather you told us what you'd like to achieve, and we'll help you reach those goals. It may be just a few tweaks and hacks, something as simple as better searching and research in google, or something more complex like planning a wedding, researching your family history, or decluttering and selling or freecycling online on different types of selling sites.
But the only limit is your imagination. Don't worry if it seems trivial (or even impossible) – or you don't know the right words – we'll sit down with you, see what you know so far (which may be nothing), and start sprinkling our fairy dust!
Check out some of the things we can help with
If you want to tutor your older relatives yourself
Tutoring your loved ones is a lot like teaching family to drive – time-consuming, frustrating, fraught with pitfalls, and often ending in tantrums and tears! Things that you find easy, they may not. And equally things that interest you may not interest them so much.
So be patient. Be very patient! Remember that tiny victories are huge milestones – even being able to make a doctor's appointment online or knowing how to add an attachment to an email. Because just being able to do one thing that their peer group can't adds tremendous kudos to their social standing.
Why not let us give them the basics and start them on their journey of discovery at a pace – and in a place – to suit them. Then when they are more confident and know a bit of the jargon, take over from us and become a mentor and coach instead, guiding them on to bigger and better things – should they so wish!
Meanwhile back at the grotto …
Take a look at our blogs in the 'Meanwhile back at the grotto' category – our tongue-in-cheek anecdotes about the progress (or otherwise) of older friends and family that we have tutored – and the effect on the younger and more tech-savvy relatives
Q-Tips – quick tips for technophobes
And for a variety of quick hacks for beginners – all actual queries and issues from our learners – see our category of Q-Tips